In 2021, you would think the topic of whether you should be using Internet Explorer would be dead and buried (or at least comical). However, we still have clients asking us to support Internet Explorer with our WordPress plugins. And our answer is and always will be "no." 
Below I'll share with you all the reasons why you should stop using Internet Explorer. I encourage you to share this with anyone asking about this.
For a safer and faster web, we need to move forward; no excuses. This means never using Internet Explorer again. 🛑Click to Tweet
Why you should stop using Internet Explorer
Many of us grew up with Internet Explorer after it launched in 1995. The good old days of bouncing between Internet Explorer and Netscape sure were fun. But when it comes to technology, nostalgia is never a good reason to still be using something.
Here are just a few of the many reasons why you should stop using or support Internet Explorer immediately.
Microsoft, themselves, have stopped supporting it. This means it's

no longer secure

. Even US Homeland Security suggests using another browser (source). The older it gets, the more frequent the vulnerabilities become. And of course, don't ever expect any new shiny features.
Microsoft is officially retiring Internet Explorer as of June 2022 (source). Edge is now the default browser in Windows 10.
Microsoft Teams and 365 Apps are dropping support for Internet Explorer as of August 2021 (source). 
Many large sites, such as Facebook, Twitter, Google Drive, ESPN, etc. are already incompatible with Internet Explorer. And Microsoft is already pushing those users to its newer Edge browser (source). This means the user experience is horrible, as some sites might work, while others don't.
As of April 2021,

less than 1% of the world uses Internet Explorer

(source). Yes, some regions are significantly higher than that, but unfortunately, it's never possible to support or please everyone. Many corporations tend to lag behind.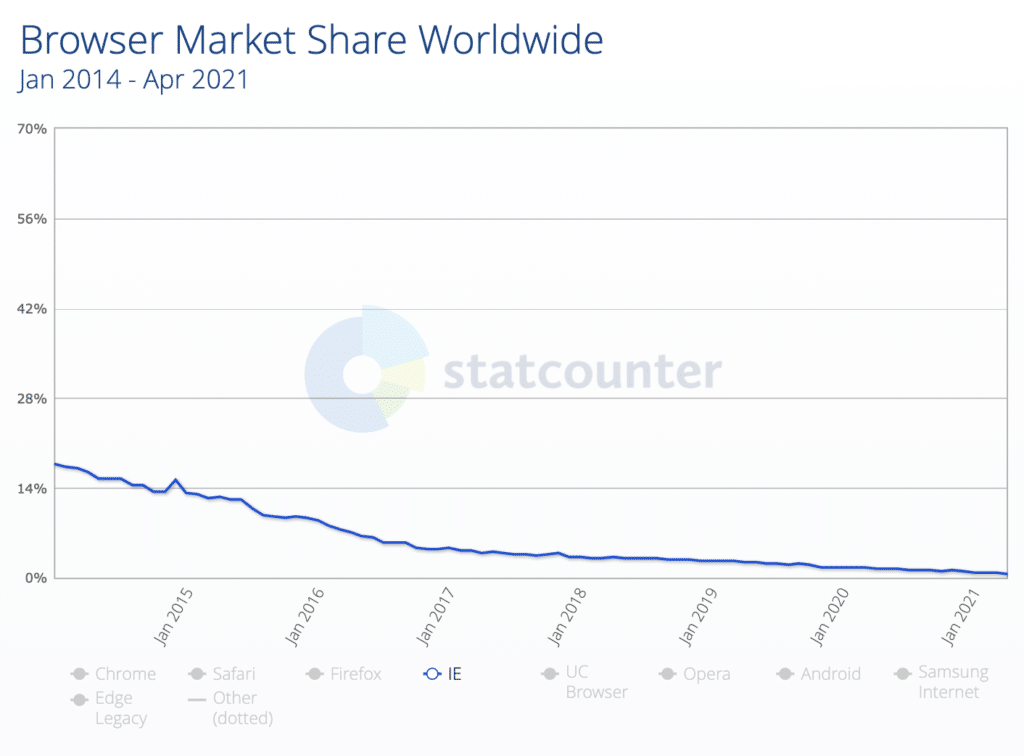 Development time increases significantly for those having to support older browsers. For example, if you're a developer on a Mac, it's hard to even get a Windows Virtual Machine with Internet Explorer to test on. You would most likely have to subscribe to a premium browser testing tool, which then adds extra expenses and overhead.
Supporting Internet Explorer has

big performance ramifications

. It typically requires older ES5 JavaScript to be compiled. This can increase the size by sometimes 30%. You also don't get to take advantage of any new technology, such as Brotli.
Support for Internet Explorer is being phased out with WordPress 5.8 (source).
There are sometimes extra development costs involved as a business. Check out this great post from Neal Burger on the end of life of Internet Explorer 11. There are some great suggestions for what you can do as a sales person, HR person, random worker, etc.
Moving forward
All good things come to an end (although I'm not sure if I would ever say Internet Explorer was that great). At some point you have to move forward for things to progress. Besides the security risks and performance issues, there are so many cool new things modern browsers can do that just aren't possible in Internet Explorer.
Before you say your company can't upgrade, I totally understand where you're coming from. I worked in IT for 20+ years before going into marketing and WordPress development. I have a Microsoft MVP award to prove it.
I've worked with old clunky apps on servers that required old browsers to function. I've been there. However, that doesn't change my answer. In one IT job, we were on an old Microsoft Exchange Server and I migrated 100+ employees over to Office 365 to bring them into the 21st century.
Things can be updated. Apps can be rewritten. Does it take a lot of work? For sure! But it can be done. At some point you have to jump on board and do the work. Whether that is putting in the time, or hiring developers to rewrite code.
What should you use? Here are some recommended browsers to use instead:
Summary
Hopefully, this is helpful for you or a client. Did I miss any good reasons not to use Internet Explorer? Feel free to drop them below in the comments.